Kingman, Arizona is known as the heart of historic route 66. Kingman is a city located in Mohave County in Northwestern Arizona. As of the 2000 census, the city had a total population of 20,069 and nearby communities bring the total population to around 40,000. New subdivisions are popping up everywhere with all price ranges of homes.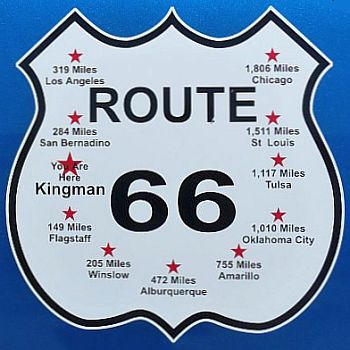 US Highway 66 or Route 66 was and is the most famous road in the United States highway system, and quite possibly the most famous and storied highway in the world. Route 66 is hard to beat as a travel theme for your next vacation.
US Route 66 originally ran from Chicago, Illinois through Missouri, Kansas, Oklahoma, Texas, New Mexico, Arizona and California before ending at the beach at Santa Monica for a total distance of 2448 miles.
In the early 1900's the route was known as the National Old Trails Road. In 1926 it became U.S. Highway 66, and within a decade was paved all the way from L.A. to Chicago.
Route 66 in Arizona is loaded with natural attractions as well. Petrified Forest National Park, Grand Canyon National Park, Canyon de Chelly, Meteor Crater, Homolovi Ruins, Hoover Dam, Lake Mead, Lake Mohave, and Lake Havasu, are easy side trips along the way.


Kingman's First Gas Station
Kingman is an affordable community, located in the midst of breathtaking natural beauty with the sunbelt lifestyle. Kingman's elevation, at 3,336 ft., provides an ideal southwestern climate -- neither too hot or too cold!